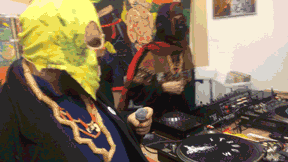 FR/ À l'occasion de la sortie de L'EP Pectoflam – Hecto (Sdorvian found tape), l'équipe Carpaccio investi le disquaire parisien Dizonord pour un concert débraillé de Pectoflam et les DJ sets de Ravy de la Crèche et La Lune.
EN/ On the occasion of the release of the EP Pectoflam – Hecto (Sdorvian found tape), the Carpaccio team invested the Parisian record shop Dizonord for a scruffy concert of Pectoflam and the DJ sets of Ravy de la Crèche and La Lune.
FR/ C'est lors d'un de ses nombreux voyages en Sdorvie, à l'occasion d'un enregistrement dans les mythiques studio Tekabet que Pectoflam découvre, coincée dans un des racks, une tape sans étiquette. Rare témoignage des balbutiements de la scène électronique indépendante de la Sdorvie des années 80, ce vestige sonore d'une époque révolue navigue entre plusieurs courants folkloriques Sdorviens. Pectoflam nous livre ici 4 morceaux entièrement remasterisés (face A) ainsi que des edits et remixes (face B) réalisés avec ses deux complices, Destroyed temple et Fatma Pneumonia.

EN/ It is during one of his numerous trips to Sdorvia, on the occasion of a recording in the mythical Tekabet studio that Pectoflam discovers, stuck in one of the racks, a tape without label. Rare testimony of the beginnings of the independent electronic scene of Sdorvia in the 80's, this sonic relic of a bygone era sails between several Sdorvian folklore trends. Pectoflam delivers here 4 tracks entirely remastered (side A) as well as edits and remixes (side B) produced with his two accomplices, Destroyed Temple and Fatma Pneumonia.
+++

☺ Dj Startup Release Party @ Sissi Club
☺ Festival INACT @ La Coop
☺ « Show me what you got ! » @ La Poudrière
☺ Carpaccio Cathedrale #6 @ Le Wagon Zouk