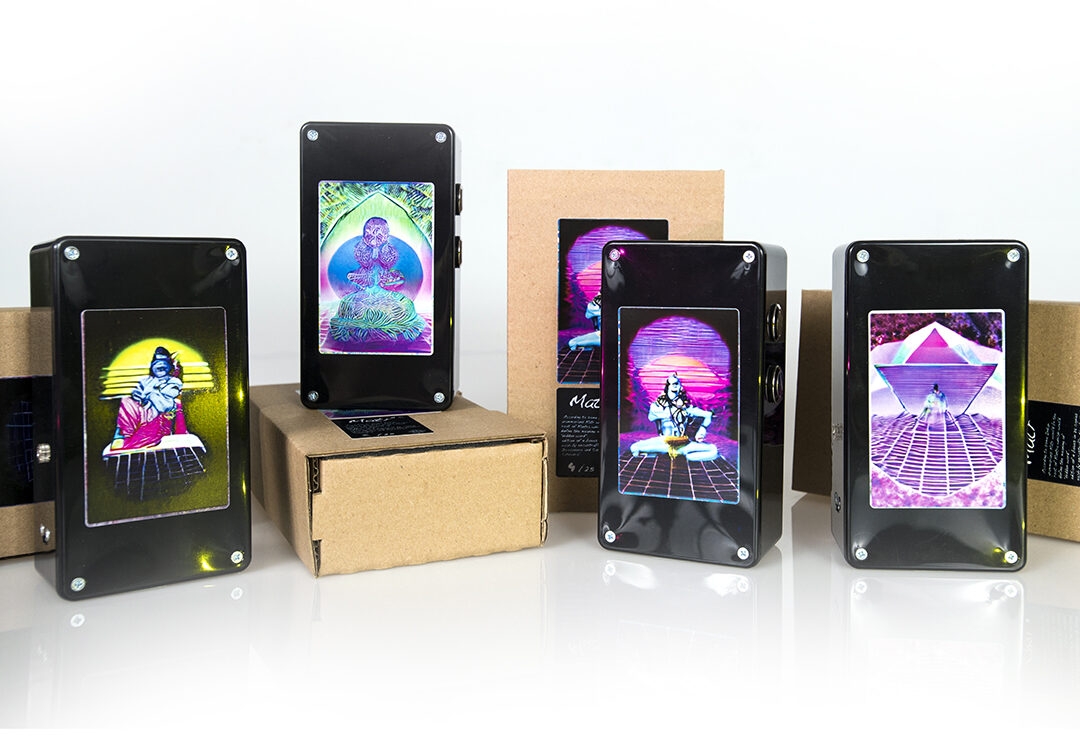 En/
Matr, a project by the Encastrable artist collective, is a limited multiple edition published by Ososphère and Carpaccio Cathedrale. It consists of 4 series of 25 numbered boxes.
Matr is a set of booda boxes (musical boxes) in the shape of effect pedals. Each boxes contains 25 samples from the Ososphère festival's different editions, for a total of 100 samples remixed and edited to 80 BPM. They can be played in loops as musical phrases or by mixing 2, 3 or 4 boxes to create new scores.
According to some Indian grammar experts, the word "Matr" is the root for Mantra, which defines the meaning of "hidden word". These spiritual formulas used from India to the Far East are transposed here to act as the black boxes of the festival, making resonate the hidden words of years of electronic hum.
Fr/
Matr est un projet du collectif Encastrable, une série limitée éditée par Ososphère et Carpaccio Cathedrale, 4 séries de 25 boîtes numérotées.
Matr prend la forme de booda box (boîtes musicales) au format d'une pédale d'effet. Celles-ci renferment chacune 25 samples issues des multiples éditions du festival. Soit 100 samples remixés et édités à 80 BPM. Elles peuvent être écoutés en boucle sous la forme de phrase musicale ou être mélangés via 2, 3 ou 4 boite de façon à créer de nouvelles partitions.
Le mot "Matr" serait selon certains spécialistes grammairiens indiens la racine de Mantra qui définirait le sens de « parole cachée ». Ces formules spirituelles utilisées depuis l'Inde jusqu'en orient sont transposées ici comme les boites noires du festival Ososphère, faisant raisonner les paroles cachées de ces annéesde bourdonnement électronique.